Early Memories
By Graham Davis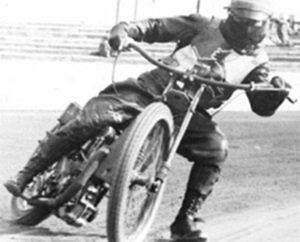 Junior Bainbridge
My first ever speedway meeting was back in August 1955 at Foxhall Stadium, Ipswich when Ipswich took on Rayleigh. I was only 10 years old and I used to stay with some friends of my mother's during the summer holidays for 2 or 3 weeks. They happened to be speedway fans and rather than leave me at home, they invited me along.
I remember ducking as the riders came round spraying shale over those not far from the perimeter fence and it did sting. I cannot recall the score although I think The Witches won and, from memory had riders such as Junior Bainbridge, Bluey Scott and Len Silver in their ranks while Rayleigh had Pete Lansdale, Gerald Jackson, Jack Unstead, Les McGillivray, Peter Clark, and, I think Reg Trott (although I might be mistaken there).
Those were the days when a 10/11 year old boy was not let loose to attend a speedway match by himself and it was another 3 years before I went again. As I lived in SW London, Wimbledon was the obvious choice and many a Monday night, I could hear the roar of engines from over 1.5 miles away when the wind was in the right direction. My next door neighbour took his two sons and myself to Wimbledon every Monday night and it was truly the highlight of the week.
We went to the first meeting of 1958 - Good Friday, 4 April versus Belle Vue. From then to 1961, which doesn't seem a long time now but was a lifetime's following at that age, every Monday saw us seated just as the first bend straightened out along the back straight. What excitement! I can still feel the excitement of walking across the expansive car park and to go up one of the aisles and see the vista of a track with the emerald green centre. The bikes in the pits were warming up with a cacophony of noise frequently peaking as throttles were tweaked. Although Wimbledon Stadium had glass panels which muffled the roar of the engines a little.
At 7.45 p.m., the strains of "Blaze Away" came over the louspeakers and in true military fashion the army of track graders and other officials came out smartly dressed in red jerseys and black trousers, arms swinging high (left, right, left, right) and with the precision of a parade drill stretched out in a straight line across the green centre facing the main stadium.
At that point, the roar of the engines faded away very quickly and for a split second silence decended upon the proceedings until the strains of the National Anthem were played. People rose, and sang and when finished, the announcer sparked into life with a welcome and announcing the riders for Heat 1.
In those days, Wimbledon were invincible and, to be honest, it was a little tedious seeing the Dons emerge as runaway winners more often than not. As a young boy, it was good to be associated with such a strong team; it gave you the "feel good" factor.
Regulars in the line-up were Barry Briggs, Gerald Jackson, Ronnie Moore, Peter Moore, Ron How, Cyril Brine, Cyril Maidment, Jim Tebby, Gerry King and we even saw a young unknown get a ride called Ivan Mauger.
We saw many world class riders every week and were rather spoilt. I remember the thrilling , energetic technique of the diminutive Peter Craven working his machine down the straights, round the bends looking for that bolt hole that he exploited just getting the chequered flag by a tyre's width. I saw the likes of Ove Fundin many times. Didn't like him as he wouldn't sign autographs, Aub Lawson, Olle Nygren, Jackie Biggs, Howdy Byford, Nigel Boocock, Ron Mountford, Rune Sormader, Bert Crutcher, Dick Bradley, Bjorn Knutsson and, perhaps the lesser known - Slant Payling, Arne Henrickson (who I believe lost a leg), Peter Van der Bergh, Guy Allot, Jimmy Gooch, Jimmy Gleed, Johnny Chamberlain to name but a few.
They were the days when riders had nice clean shiny black leathers and a glinting race jacket. Inevitably sponsorship has marked these with something akin to graffiti now. Any who were around in the late 50s and early 60s may recall those days which gradually went into decline a bit following the huge post-war boom. The smell of cinders and ethanol are still as evocative as ever.
This article was first published on 1st September 2013
[ Use Desktop Version ]
Comment on this Article | Contact Us | Go Back to Main Menu