Trackin' Down: David Tyler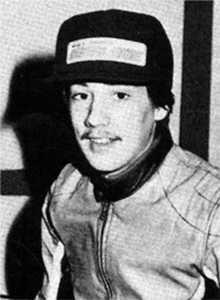 David Tyler
An extract from Ian Gill's interview with David Tyler that appears in Trackin' Down 4.
Is there a stand out ride from your Long Eaton years that you still recall with pride?
The stand out one for me was in a meeting at Ipswich (10th May 1984) when I was riding for the junior Invaders. We needed a 5-1 in the last heat to beat the Witches on their own track.
I had been really looking forward to riding the Foxhall track as that was where many of the favourites from my younger years, Louis, Sanders, Davey, used to ride.
I had never been there before to ride.
In the last heat I was partnering John Proctor, and because he used to like to ride the outside line, I said to him, "You have the outside gate and I'll make sure I take both of their riders out to the fence so you can cut back on the 2nd bend. From then on, you stay on the inside and just go as fast as you can!"
From the gate, it all went according to plan, as I quite forcefully took the two home riders out while John shut off on entry to the bend and cut back underneath the three of us and got through to the front. Unfortunately, the plan started to go a bit wrong when I realised John wasn't going fast enough on that strange (for him) inside line. To be fair to John, he was following my instructions to the letter.
I finished up for the full four laps looking behind me to see where the Ipswich lads were so I could block all their attempted passes, by fair means or otherwise! I made a good job of "filling" the width of the track for the remainder of the race and we got the 5-1 and the win, but I lost count of the number of times I said to myself under my helmet, "Come on John, you've got to go faster............!
Even though he was going so slowly, he locked up a couple of times, but that seemed to help rather than hinder our situation, as it meant the three of us following also had to lock up, which messed up the Ipswich lads' attempts to pass.
When we got back into the pits everyone on our side of it was celebrating wildly, but the next thing I know is that some bloke has got hold of me (who turned out to be the Ipswich team manager, John Berry) and he's trying to hit me! He got me by the neck and it was all kicking-off. Fortunately, Geoff Langmaid (the Invaders' junior team manager) managed to get him off me.
Looking back, it was by far, my finest ride on a speedway bike. It encompassed everything. Team riding. A last heat decider. A last heat 5-1 win and winning at the track of one of the supposedly stronger junior teams - and in front of the England team manager, John Berry. I suppose I was quite aggressive in that race but it needed to be done. In any case, if I'd been riding in a 'dangerous fashion', the referee would have excluded me.
It was therefore great, a bit later in the evening in the changing rooms when Billy Sanders came over and said, "You caused a bit of a kerfuffle out there didn't you?" I was a bit taken aback as he was one of my all-time idols, so before I could reply he continued, "You know what, that was the best ride of the night!" And with that he walked out. To get that accolade from a top, top rider (and one of my idols) really made for a perfect end to a great meeting.
Click here for details on how to order your copy of Trackin' Down 4
This article was first published on 24th June 2012
[ Use Desktop Version ]
Comment on this Article | Contact Us | Go Back to Main Menu