Venier's Canadian Capers
By John Hyam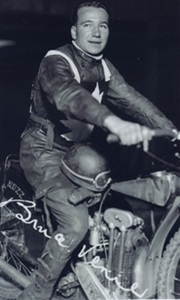 Bruce Venier in the pits
at Newcastle in 1938
BRUCE Venier was in a group of Canadian riders who came to Britain in 1938 to try their luck on British tracks. He arrived in Britain after fives seasons racing on tracks in the USA, in which time he had won the Niagara State Championship.
At the time, West Ham already had another Canadian Eric Chitty in their side, and then completed a deal that brought the talented Jimmy Gibb into their line-up. On the strength of the good form shown by Chitty and Gibb, Hammers' promoter Johnnie Hokskins, who was also running second division track Newcastle, decided to bolster his Brough Park squad with a back-bone of Canadian riders. Besides Venier, Hoskins also signed George Pepper, Elwood Stilwell and Bob Sparks.
Besides their commitments to Newcastle, the Canadian quartert also made regular appearances in open meetings at the Marine Gardens in Edinburgh and also turned out for a Canadian team in challenge matches at several second division tracks.
Pepper was a big success but the other Canadians struggled to get above reserves berths and were released by the Diamonds at the end of the season. It was therefore a surprise nine years later when Venier reappeared on the British speedway scene when Ian Hoskins signed him for Glasgow White City.
The Canadian made his debut on April 9, 1947, in a challenge match against the 'Oliver Hart Select', and the following week turned out in a league match against Norwich. He fell in all his races in both matches, although in one meeting he was twice in the lead when he crashed. Venier was riding the White City track spare and using borrowed leathers.
Hoskins recalls that in his last White City outing, Venier crashed tearing the seat out of his borrowed leathers and vanished to the dressing rooms and was not seen again that day. Of his decision to sign Venier, Hoskins commented, "I was surprised when he presented himself at White City. He had no equipment, just a reputation gained at Newcastle before the war. On that, I gave him a chance."
After his last racing appearance at White City, the next day Venier turned up at the stadium and persuaded Hoskins to lend him £10 for the fare to London, from where he planned to return to Canada.
Hoskins never heard from him again, but years later told me: "I was in Toronto in 1980 and heard that Venier was driving taxis. I never found him, so I'm still owed a tenner."
In that period of the 1980s, former Newcastle and Southampton rider Mike Tams, who was then also driving taxis in Toronto, came in contact with Venier. Tams said, "He was a really nice guy, and although he had been out off touch with speedway for many years, did show interest in the sport when I started talking to him about it. Bruce came along to watch a couple of meetings at Welland, then again went out of sight and stopped driving taxis. Mysteriously, other people also lost contact with him, the general speculation being that he had decided to go and live in New York."
This article was first published on 2nd June 2012
[ Use Desktop Version ]
Comment on this Article | Contact Us | Go Back to Main Menu