Book Review: Backtracking Volume 3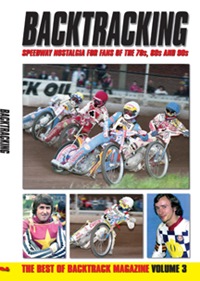 It's that time of year where thoughts turn to Christmas shopping and finding just the right gift for family and friends. For fans of speedway history a visit to the Retro Speedway shop will offer many interesting suggestions, one of which is the new book "Backtracking - The Best of Backtrack Magazine Volume 3".
It's a compilation of highlights from the popular speedway nostalgia magazine that concentrates primarily on the 70s and 80s.
The book runs to over 200 pages and includes many black and white photographs.
We've picked out some quotes to give you a taster of what you can expect.
Marvyn Cox on the joy of riding with Hans Nielsen:
"Hans was just a brilliant team rider. He not only team-rode when at the front, but he could get you there in the first place. He could slow down another rider, so I could go from third to second. That happened on so many occasions. I hadn't really experienced that kind of help before. When I'd be partnered with Bobby Garrad at Rye House, we had to be split up, because we used to race each other and get in each other's way."
Ronnie Russell on signing Peter Schroeck and Jens Rasmussen in 1988:
"At the time I could not put a team on the track. I take responsibility for bringing the first EEC riders into the National League but the law of the land dictated that those from EEC member countries would have eventually come into the second divison anyway, although I will say that it never needed to go as far as it's gone, where there are so few British riders in the Premier League now. I never brought in riders who needed work permits."
Troy Butler on his first season in the UK:
"That first season was ridiculously hard. I'd only ever ridden in about 10 meetings in Australia beforehand - that was the sum of my speedway experience. The guys in Australia were good in their own right but not in the category of British League riders. I was meeting riders with far more experience. That continued pretty much throughout the whole first season. I was struggling much of the year with confidence".
Bobby Beaton on an eventful road trip:
"Lada Cars started sponsoring the Vikings and Kelly (Moran), Dennis (Sigalos) and me all travelled down in one of them for a meeting in London with our bikes in a trailer. I was driving and Dennis asked if I would mind going past Buckingham Palace because he had never seen it. I said 'No problem' but as we were driving past, Kelly stuck his legs through the sun roof, farted and set fire to it with a cigarette lighter. The methane gas ignited and the flame set fire to the dashboard!"
Jan O. Pedersen on winning the World Final:
"I'd supressed my emotions for so long that even though I was trying to believe I was the new champion as I went round after my last ride, it wasn't really sinking in. I remember feeling very cool and calm about it and it wasn't really until a couple of days later that it all finally came out."
Colin Cook on how to ride Exeter:
"You needed a totally different way of riding for Exeter. It was the complete opposite of every other track. Everywhere else you threw the bike into the corners. Take Arena Essex for example. There you are turning the bike on the start/finish line and back the bike into the corner. At Exeter, it was a case of going down the straight hard, then roll the throttle off. That stepped the back wheel out and brought the power back. If you threw the bike into the corner, you'd end up going across the centre green."
John Davis on the England team:
"Without a doubt there was a North/South split at times, which was particularly noticeable on our trips to Australia. There was PC, Chris Mort, Dougie Wyer and Reg Wilson from the North and the likes of Jessup, Simmo, Gordon Kennett and me from the South. And then there was Kenny Carter, who didn't really fit in anywhere because no-one liked him! Having said that, I respected Kenny for his attitude and the fact that he was proud to be British. Like me, he always said what he thought, so at least you knew where you stood with him. He was never two-faced."
Amongst others interviewed at length are Barry Briggs, Phil Crump, Sam Ermolenko, Robert Henry, Tormod Langli, Bob Valentine, Graham Brodie, Zenon Plech and Tim Swales.
There are also brief catch-ups with Chris Pidcock, Jim Wells, Andy Hibbs, Keith Evans, Rob Fortune, Roger Mills, Chris Roynon, Duncan Meredith and Shawn Venables.
The early editions of Backtrack magazine were always enlivened by the thoughtful contributions from the late John Berry. In this book the editor includes a piece in which the former Ipswich promoter picked out the best foreign riders of the eighties.
You can order the book from the Retro-Speedway website for £16 (post free in the UK).
This article was first published on 5th November 2017
[ Use Desktop Version ]
Comment on this Article | Contact Us | Go Back to Main Menu