Ronnie Moore and the Atom Car
By John Hyam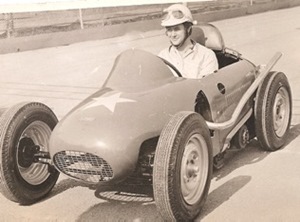 Ronnie Moore in the Atom Car
IN the mid-1950s, stemming from Wimbledon speedway, there was an effort to popularise midget car racing as a part of the second-half of meetings.
Former Eastbourne and Wimbledon rider Alan Brett, who was involved in the venture, recalls what happened in regard to what were known as the Allard Midget Cars. He said, "I remember them well and world speedway champion Ronnie Moore turning one over at practice one Tuesday morning and breaking his collar-bone.
"At the time, I lived in a flat at Wimbledon that had previously been the home of Trevor Redmond, who was also keen on midgets as well as his own speedway career. The main developers of the Allard car were Stanley Allard and Charles Batson."
Years later, Chris Humberstone of Allard Motorsport said, "A meeting between Stanley Allard and riders and management was held at Wimbledon to discuss the possibility of building a small car for use on the dirt.
"The popularity of speedway racing was waning at that time and it was thought that, perhaps, car racing would bring back the crowds. Mr Gill Jepson was called in and working from a few pencil sketches by Sydney, he built up a chassis, using light channel-selection steel. It had a 3ft front track and a straight tube axle mounted with two quarter-eliptic springs and radius rods, while the rear was unsprung, using an axle-tune mounted between thrust races on each side of the frame."
Humberstone explained, "The rear track measured 2ft 9in, and the tiny wheelbarrow wheels were driven from the centrally mounted engine by chain and sprockets. As with the speedway bikes, there was no gearbox, but a final-drive shaft sprocket was designed for easy removal to permit quick changes of ratio. The wheelbase was 4ft 6ims and the completed car and it light aluminium body weighed just 278lb. "
Painted in bright colours and named 'The Atom', it was put on a raised dias at a Wimbledon speedway meeting, and shortly in October 1955 after was tested on an empty track by speedway star Ronnie Moore.
"It went quite well, though suffering from insufficient head of petrol from the tail-mounted gravity-feeding tank. A pump was fitted, driven off the axle shaft and performance was much improved,. But after several laps Moore overdid things on one corner and the car overturned with him breaking his collar bone."
Humberstone concluded, "Not surprisingly, his interest waned a little after that and as further tests at Rayleigh with another Dons' rider Cyril Brine driving showed that passing would be difficult and the first man away would usually win, the idea was dropped."
Gil Jepson, who played a major role in designing 'The Atom' added, "It was fitted with a JAP speedway-type engine, but the problem was with the springs which were similar to those used in the Frazer-Nash racing sports car. Even on the straights these tended to cause a sideways movement.
"Ronnie Moore had problems when testing the car and generally we decided that the project was not suitable and the venture was abandoned."
In 2002, thanks to the efforts of Reg Fearman, Ronnie Moore was reunited with 'The Atom' when he was taken to meet its owner, the former Aldershot and Eastbourne rider Jack Taylor.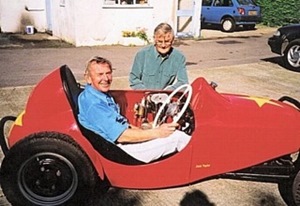 Ronnie Moore and Jack Taylor in 2002
This article was first published on 3rd September 2017
[ Use Desktop Version ]
Comment on this Article | Contact Us | Go Back to Main Menu