If It Ain't Broke...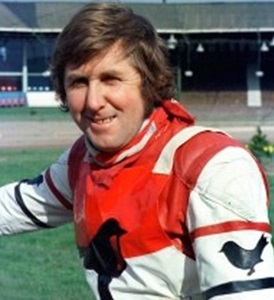 Barry Briggs
Greg Hancock's double puncture in last week's Latvian Grand Prix sparked much initial speculation about the cause. Was it track conditions, a bad batch of tyres or just rank bad luck? The popular American put an end to the debate when he confessed the misfortune was largely self-inflicted. He admitted to leaving the tyres under-inflated in an attempt to increase the drive from the back wheel.
The experiment wasn't too costly for the American, as the second puncture occurred near the end of a race, allowing him to hold on to second place in that particular heat.
Speedway riders have always tried to make tweaks to their bikes, hoping to somehow coax out a little more power or improve the handling. Hancock's recent experience shows that constant tinkering is not always the answer and brought to mind a tale about Barry Briggs' preparations for the 1969 World Final.
He similarly found that over-preparation can come back to bite you. Writing in his first auto-biography, "Briggo - His Own Story", he recalled:
"This (1969) was my best year for Swindon, with over 400 points and maximums all over the place. The championship rounds went smoothly, and after coming to the British Final with no problems, that meeting at West Ham brought another 15 point show and boosted my confidence sky-high.
Ivan (Mauger) was being tipped by a lot of people but I felt quite capable of seeing him off. The Thursday practice went like a dream. Physically and psychologically, I felt better before any Final for years.
I decided to nip across to Swindon for a few practice laps at lunchtime on the Saturday.
The idea was to get myself warmed up, run a final check on the bike, and then take a leisurely drive up to London.
The best-laid plans can go wrong. The bike started to misbehave. Murray (Briggs), Jan Odengaard and I had it to bits, put it back together again; still no good. We must have spent the best part of three hours testing, adjusting, trying the bike and I was getting more and more worried.
Finally, at about 5.15, we couldn't hang around any longer. The meeting was due to start at seven and the Wembley traffic on Final night is worse than trying to pass a handful of Poles.
After a 100 m.p.h dash, in between meeting the Newbury racegoers, of course we got snarled up in the Wembley traffic. It was a real panic negotiating the last few miles but a policeman on a motor bike served as an escort and got us through.
I made a real bad start in the opening race, eventually got past Ken McKinlay and Ronnie Moore on the last turn, but the bike was useless.
Meantime, Murray was busy building my spare bike - on which I won my last two races in the fastest times of the night. Briggo organisation, yet again!
We tried all manner of adjustments but nothing worked. Eventually I mustered 11 points and qualified for a run-off with Soren Sjosten.
Ivan, meanwhile, had gone quietly and efficiently about his business and none of the other boys could stay with him. He had the title, the championship that I wanted and reckoned my chances of taking. Beating Sjosten for second place seemed like a poor consolation at the time.
But... there's always the next time."
Briggo's chances took a hit in heat 8 when he dropped a point to final debutant Valeri Klementiev, giving the Soviet three of the four points he scored on the night.
Barry was back out in the next race and led the way until Torbjorn Harryson clashed with Eddie Jancarz and ended up with a broken leg. Mauger took full advantage of the re-run and handed Briggo his second defeat of the evening. His third and final defeat came in heat 15, when Soren Sjosten and Jan Mucha beat him to the flag, Briggs pulled a locker on the second bend and Mucha slipped through and Briggs (still on his ailing machine at that point) was unable to make up the ground.
Mounted on his second bike, he came out on top in a strong heat 18, leading home Hasse Holmqvist, Nigel Boocock and Ove Fundin in a time of 70.2 seconds.
Briggo finished on 11 points, three behind Mauger, though the strong-suspicion was that Mauger sacrificed his own maximum hopes by simply following Sjosten home in heat 20. That set up the run-off between Briggs and Sjosten for second place and it only took Briggo 70.2 seconds to clinch the silver medal.
Might the result have been different if he hadn't taken a de-tour to Swindon earlier that day?
This article was first published on 26th July 2015
---

Mike Wilson:

"Yes I do believe the result would have been different due to the fact the bike would have played up during the final itself possibly robbing Briggo of even a rostrum position. When you look back at pictures of Barry's bike the term over preparing is not one you could throw at him is it?"

[ Use Desktop Version ]

Comment on this Article | Contact Us | Go Back to Main Menu